Biography
Hugh Duncan ("Howdy") McPhail was born near Bankend, Saskatchewan on March 14th, 1915. He attended school in Prince Albert, and in 1934 won a hockey scholarship to Notre Dame College in Wilcox, Saskatchewan. Later, from 1938 to 1942 he studied at the University of Saskatchewan, earning a BSc in agricultural economics while also playing Agro intramural hockey and Huskies football.
Very soon after completing his studies he enlisted in the air force and began extensive training at flying schools in Prince Albert, Dauphin (Manitoba) and finally on Prince Edward Island, before finally heading to England. Serving through to the culmination of the war, he became an accomplished pilot and flew 28 missions. He was honoured with the Distinguished Flying Cross for "his unselfish, splendid record, and high degree of courage...a source of inspiration not only to his own crew but to all crews in the squadron".
Evidently flying was in Howdy McPhail's blood. In 1952, having returned to Saskatchewan after the war, Howdy established McPhail Airways (later, McPhail Air Services Ltd.) in North Battleford. Besides spraying crops and giving flying lessons, he also began taking aerial photographs of farms and towns throughout the West, and as far as BC, Ontario and the United States. His pictures, which are incredibly clear and precise, are all the more laudable for the fact that he both piloted the plane and snapped the photographs. These were then sold door to door to the respective farm owners as a unique and personal keepsake. Customers could either order the customary black and white image of their farm or pay extra to have it hand-tinted in whatever colours they specified. The photos became a common feature of many prairie farmhouses of the 50's and 60's. In some it is even possible to see the inhabitants waving up at the plane or going about their daily tasks.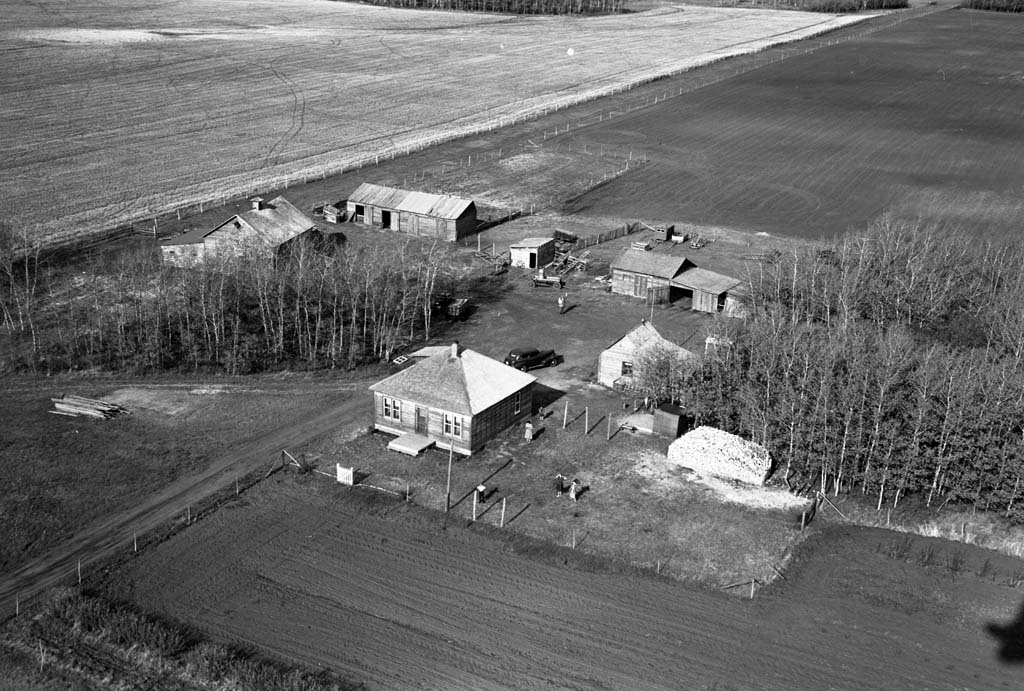 An aerial photograph of a farm in Saskatchewan.
In 1955 Howdy branched out into aerial photography of villages, towns and cities. The resultant prints were sold as calendars and postcards throughout Canada. Howdy's technique of flying low and taking several aerial obliques of a site allowed for a great amount of detail to be captured. Looking closely at some of his town shots, one can sometimes pick out building names, types of cars, or see people on the street or in their gardens.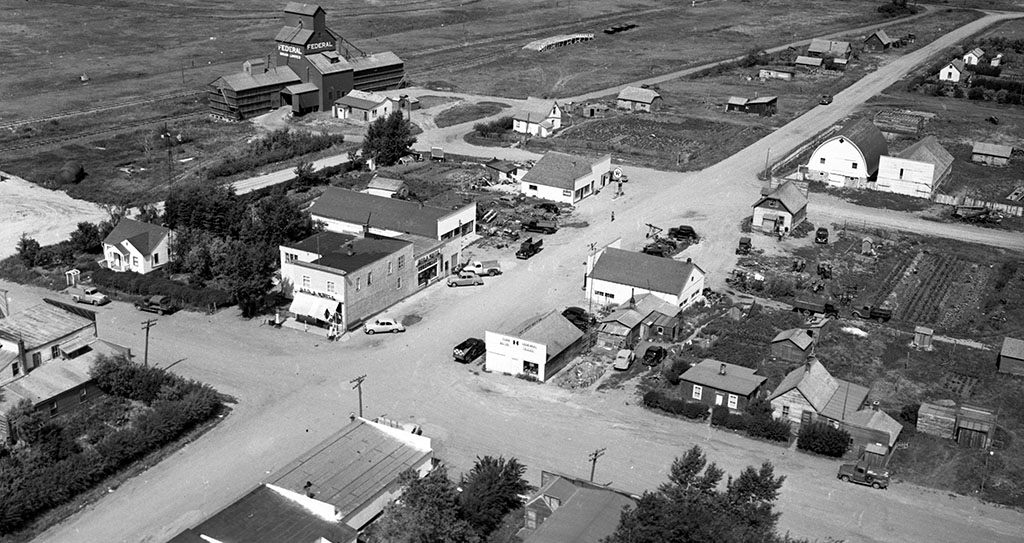 Image of Cando, SK, named after the community in North Dakota.
Howdy shot aerial photographs for a decade before turning his attentions elsewhere in 1962 (though he operated McPhail Air Services until 1981). The collection of images that he had amassed in the ten years up to this point remain an invaluable artefact of that era. In 1995 Howdy was inducted into the Saskatchewan Aviation Hall of Fame, and in 1999 into the Agricultural Hall of Fame for his aerial spraying work. His efforts in the war were commemorated by a park in North Battleford which was named in his honour. Howdy died in March 2001.